A Monumental Royal Seljuk Carved Stucco Panel
Iran, 12th Century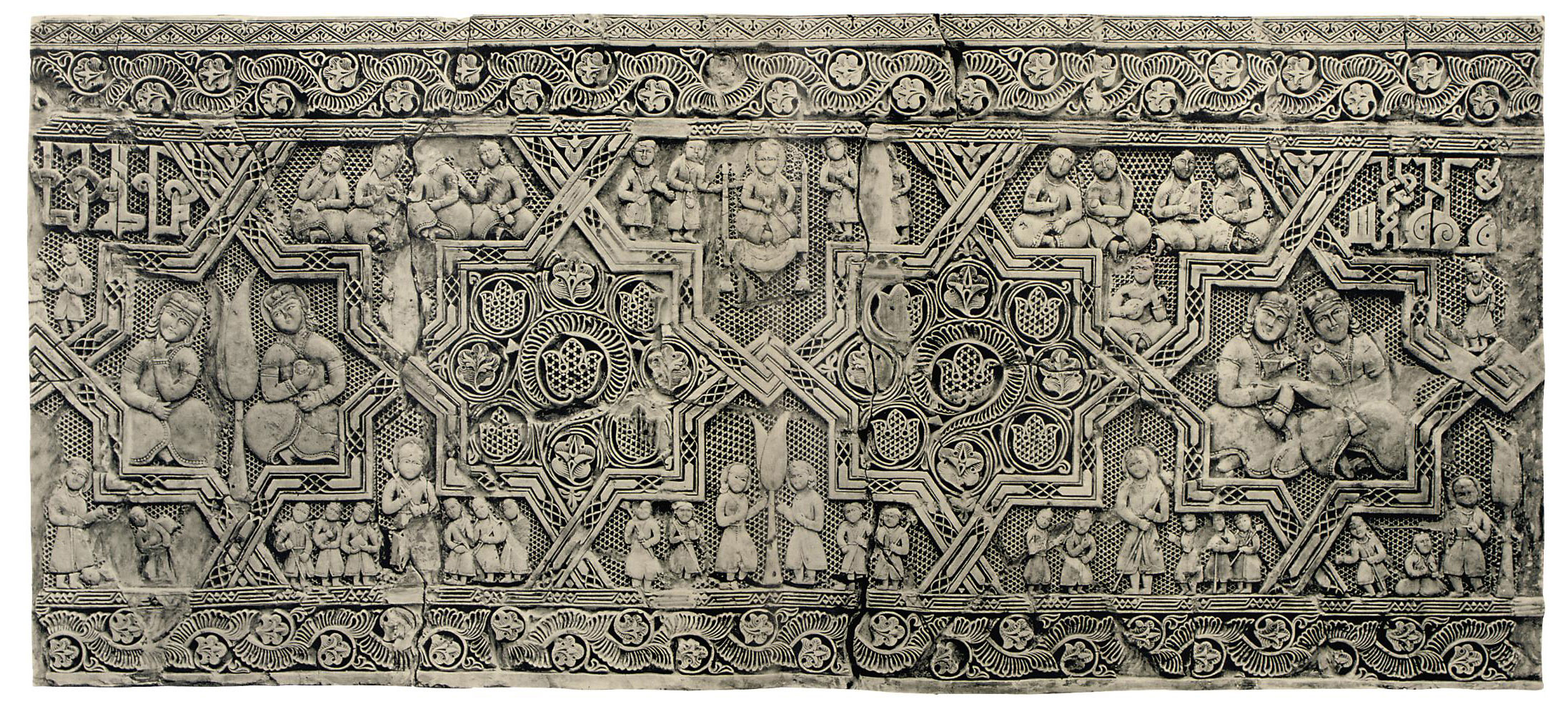 A MONUMENTAL ROYAL SELJUK CARVED STUCCO PANEL
IRAN, 12TH CENTURY
Of rectangular form, the deeply carved decoration arranged with a main register bordered by two narrow bands of meandering palmette scrolls above and below, the main register with a four large eight-pointed stars formed by interlocking strapwork bands, two with a variety of palmettes in a large swaying scroll, the other two with a large figural scene, the interlocking bands bordering smaller scenes above and below, above a succession of scenes of courtly pleasure centrered around an enthroned prince and flanked by an inscription in plaited kufic reading al-sa'ada (happiness), below five scenes related to royal protocol, the background deeply carved with a lattice of small six-pointed stars, the top band with a frieze of triangular palmettes, the scenes can be described as follow

In the left star, two seated figures around a cypress tree, one with elaborate headdress wearing a robe with tiraz bands
In the right star, two seated figures
In the upper and lower bands, clockwise from top left: below the kufic inscription a single standing figure bearing a mace, four seated figures drinking and enjoying music from a tambourine player seated below, an enthroned prince surrounded by attendants, each wearing a specific attribute, two seated figures enjoying music from three harp, violin and tambourine players, below the kufic inscription a single standing figure, an important official, possibly the hajib, chasing a man away with his stick and for whom a kneeling woman seems to be intercessing, the hajib flanked by attendants, two standing figures around a cypress tree flanked by further attendants, the hajib flanked by court officials including the mace bearer, the napkin bearer (master of robes) and one bearing a hare, three figures prostrating in front of the hajib
5ft. x 11ft. 4in. (152 x 344cm.)
Source: Christie's Sale 7871 Lot 99.

---

Other Seljuk Illustrations of Costume & Soldiers