Seljuk Silk Lampas Robe, Central Asia, 11th/12th century.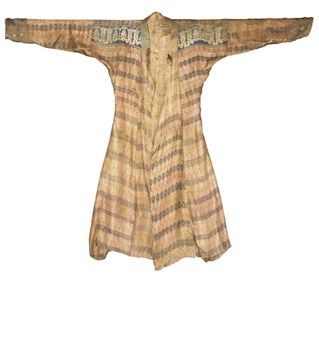 With flaring skirt and tapering long sleeves, composed of large panels of silk together forming a design of registers of flowerheads with two bands of white rosettes on pink ground alternated with one register of blue rosettes on red ground, the shoulders on the front of the robe with a bold register of repeated white foliate kufic inscription on blue ground, traces of fur trim around the inner seams of the robe, very delicate inner lining, the cuffs and a band around the collar are later additions. 41˝in. (130.8cm.) long.

Notes: Looking at the Seljuk stucco figures from 12th and 13th century Iran we find substantiation of some of the decorative motifs found in the present robe. The stucco figure of a 'Courtly Guard' in the Metropolitan Museum illustrated in David J. Roxburugh Turks (exhibition catalogue, London, 2005, no. 39, p.87), which is attributed to 12th century Afghanistan or Iran displays two such motifs. The floral band which runs down the inner seams of the robe is composed of simpler but simplified flowerheads to those found in the repeated registers of this robe. Similar flowerheads are also found on a silk in the David Collection (Kjeld von Folsach and Anne-Marie Keblow Bernstead, Woven Treasures - Textiles from the World of Islam, Copenhagen, 1993, no. 16, p. 51), which has a calibrated C-14 test indicating a date of 1035-1225 AD.

The second decorative motif shared by many of these Seljuk figures and found on the present robe are the tiraz bands - in most of the figures found around each arm and on the present robe across the shoulders.

Von Folsach and Bernstead refer to a group of silks with plaited pseudo-kufic which was developed in the course of the 11th century in the eastern Iranian area, but quickly spread to the rest of the Islamic world (op. cit., 1993, p. 44). The inscription from the upper section of a niche from Ghazni in Afghanistan, in the name of Sultan Ibrahim bin Mas'ud (AH 451-92/1059-99 AD), is composed of similar though legible, floriated kufic - helping to bring the date of the present robe with more certainty into the 11th century (Sheila S. Blair, The Monumental Inscriptions from Early Islamic Iran and Transoxiana, Leiden, 1992, no. 69, pl. 131-133, pp. 182- 184 and 273-74). A silk tomb cover of dark blue attributed to the 11th or 12th century formerly in the Ackerman Collection has similar monumental if more elongated kufic with interlocking upstrokes and foliated terminals (Arthur Upham Pope (ed.), A Survey of Persian Art, Vol. XI, Oxford, 1938, Lon.Ex.No.38F, pl. 985).

A reading of bi'l-yum[n] has been suggested for the calligraphy on this robe but it is somewhat speculative. Von Folsach and Bernstead raise the question as to why such pseudo-kufic should be used in textiles that are so clearly of high quality (op. cit., 1993, p. 44). They conjecture that the textiles were woven in an area where it was not possible to find a correctly written Arabic model, but then argue that this is unlikely considering that weavers of such fabrics otherwise seem to have been familiar with highly refined Islamic idiom (Von Folsach and Bearnstead, op. cit., p. 47).

Source

See also Seljuk male clothing.


---

Other Seljuk Illustrations of Costume & Soldiers