Seljuk Horsemen on a
Decorated Jug, Mina'i Ware, Iran, 12th to 13th Centuries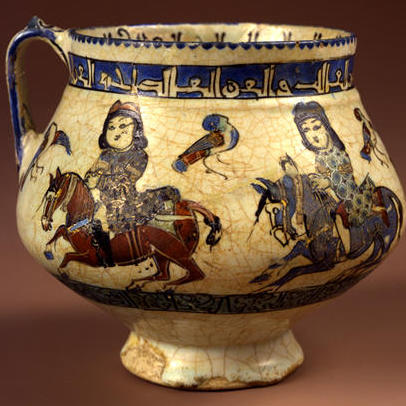 The jug is decorated with four hunters on horseback alternating with a design of five falcons, a princely motif which derived from popular contemporary Persian manuscript illustrations. Four strips of inscriptions, executed in foliated Kufic, are visible on the inner surface, on the outside near the base, and on the handle. Unfortunately, they are indecipherable.

The group of luxury items to which this piece belongs is called 'Minai ware,' after the Persian word for enamel, referring to the highly polished glaze on the figures. The uniqueness of this pottery lies in its richly painted decoration and its extensive palette, often employing as many as seven colors. This jug used six colors: blue and turquoise are under the glaze while the overglaze consists of black, red and brown, with gold used for accented details. Minai pottery pieces are considered some of the most remarkable creations of the Persian ceramic masters of the twelfth and thirteenth centuries.
Na'ama Brosh. Source.

---
Seljuk Costume on Ceramics
Seljuk Illustrations of Costume & Soldiers