Khwarizmian Bowl with Astronomical and Royal Figures, late 12th-early 13th century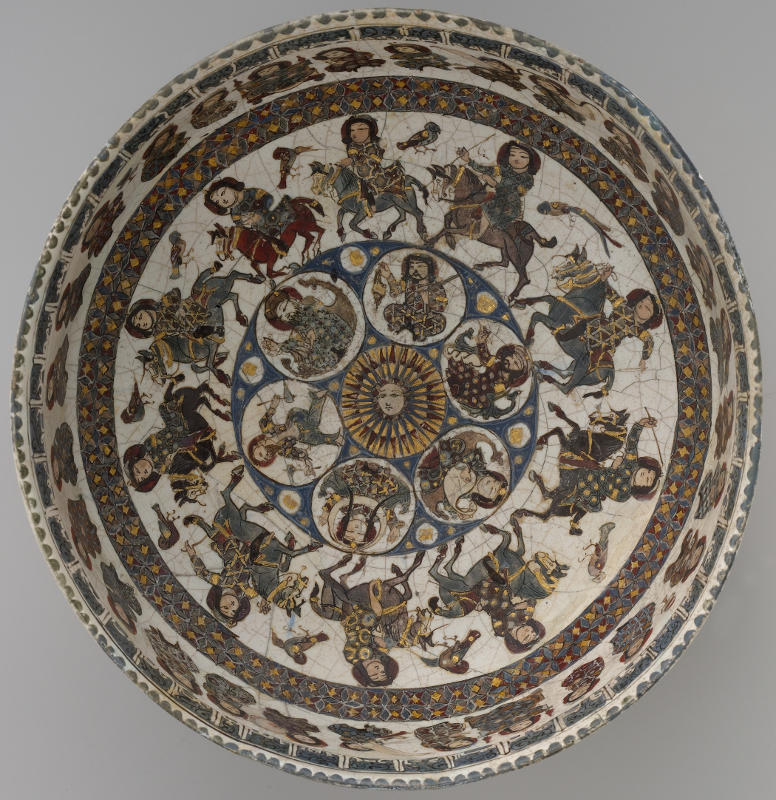 A larger image of this Khwarizmian Bowl with Astronomical and Royal Figures. Metropolitan Museum of Art, New York, 57.36.4.
Bowl with Courtly and Astrological Motifs
Object Name: Bowl
Date: late 12th–early 13th century
Geography: Attributed to Central or Northern Iran
Medium: Stonepaste; polychrome inglaze and overglaze painted and gilded on opaque monochrome glaze (mina'i)
Dimensions: Height 3 3/4 in. (9.5 cm); Diameter 7 3/8 in. (18.7 cm); Weight 14 oz. (396.9 g)
Classification: Ceramics
Provenance: [ M. Parish-Watson, New York, by 1922–31]; Mortimer L. Schiff, New York (until d. 1931); his son, John M. Schiff, New York (1931–57; sold and gifted to MMA)
Accession Number: 57.36.4
The figures and decoration on the interior of this bowl combine imagery of the courtly cycle and astronomy. In the center the sun is surrounded by personifications of the planets (clockwise) Mars, Mercury, Venus, the moon, Saturn, and Jupiter. Islamic astronomers believed the planets orbited the earth, forming seven concentric circles. An eighth, outer sphere contained the constellations and signs of the zodiac, possibly represented by the six large and twelve small gold circles between the planets' heads.
The central roundel with a Sun symbol is surrounded by six circular medallions with symbols representing the Moon and the planets Venus, Jupiter, Mars, Mercury, and Saturn. The surrounding bands contain mounted horsemen and birds, geometric ornament, a row of seated courtiers and musicians with two enthroned personages, and an Arabic inscription in kufic script. A cursive Persian inscription surrounds the exterior. Representations of the planets and the Zodiac signs were popular in Seljuq iconography. They are also seen on stone relief sculpture and inlaid metalwork and continued to be important motifs in later Islamic art.

Inscription: In Arabic, in naskhi script, outside:
ملک البر و [البحر ...] الدنیا و الدین ملک الاسلام و المسلمین ابو ... ـعرک قسیم امیر المؤمنین
The king of mainland and sea … world and religion King of Islam and the Muslims Abū …. mʻrak ally of the prince of faithful.

Inside below the rim in Kufic script
و البرکة و الرحمة و الیمن ... و النصر الغالب ... و السعادة ... و النعمة ... و الدولة و السعادة ... و النعمة .... و الفدرة
And blessing and merciful and good fortune … and winner victory … and happiness … and grace … and power and happiness … and grace … and power

A.Ghouchani

Source: Metropolitan Museum of Art, New York, 57.36.4.



---


Each of the planets can be identified by their typical iconography. Mars (al-mirrikh) is a warrior, holding a sword and a severed head; Mercury (al-cutarid) is a young man writing on a scroll of paper; Venus (al-zuhara) is a female musician playing an instrument; the Moon (al-qamar) is a human figure with a crescent. Saturn (al-zuhal) a man with a beard; Jupiter (al-mushtari) is a sage or a judge, wearing a turban; and the Sun (al-shams) with a face in its centre.

---

See also Astronomical Figures in Kitāb al-mawālīd (Book of nativities), attributed to Abu Maʿschar, Mamluk or Ilkhanid, late 13th century
Other Seljuk Turk Illustrations of Costume & Soldiers