Illustrations from
Scylitzes Chronicle
referenced as figure 609 in The military technology of classical Islam by David Nicolle



609A f.151v upper: Assault on Tarsos during the reign of Nikephoros II. Phokas (963-969)

f.151v lower: Envoys Of Tarsos

609B f.151r: Byzantines besiege Mopsuestia.

609C f.166r: The Byzantines (under Emperor John Tzimiskes) conquer the city of Preslav.

609D f.205r upper: The seizure of Edessa in Syria by the Byzantine army and the Arabic counterattack.

f.208r A Thracesian woman kills a Varangian, and his companions surrender his belongings to her

609E f.99v: Byzantines under Procopius defeated by Arab infantry.

609F f.111v: Sack of Thessalonica by Arabs under Leo of Tripoli

609G f.136v: Leo Phokas defeats the Arabs in 950, escape of Chalkoutzes

609H f.116v: Emperor Alexander (Alexandros, 912-913) deposes Patriarch Euthymios

f.41r upper: Cretan Saracens pursue Krateros and capture and hang him at Kos

609I f.54v: A battle that took place in AD 842 between the cavalry of the Byzantines and the Arabs.

(609J) f.39v upper: The Cretan Saracens defeat the Byzantines under Damianos
---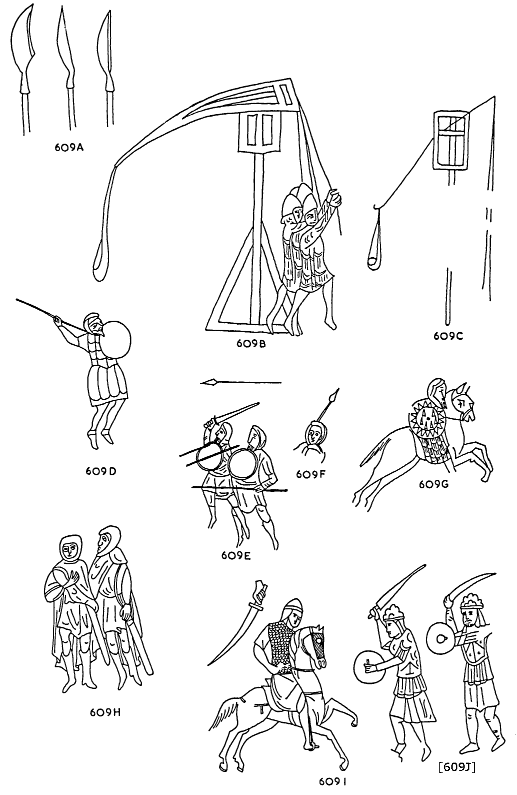 Referenced as figure 609 in The military technology of classical Islam by D Nicolle
609A to 609I, Manuscript, A - 'Infantry weapons,' B - 'Byzantines besiege Mopsuastia,' C - 'Byzantines besiege Proslav,' D - 'Arabs attack Edessa,' E - 'Arabs defeat Procopius,' F - 'Arabs sack Salonika,' G - 'Emir defeated by Bardes,' H - 'Arabs,' I - 'Saracens,' Skylitzes, 12th-13th centuries AD, Siculo-Byzantine, Bib. Nac., Cod. 5-3. N. 2, ff. 151v, 166r, 208, 99v, 111v, 136v, 116v, 39v, 41r and 54v, Madrid (Grab, Sev).



Back to Scylitzes Chronicle (Codex Gręcus Matritensis)


---